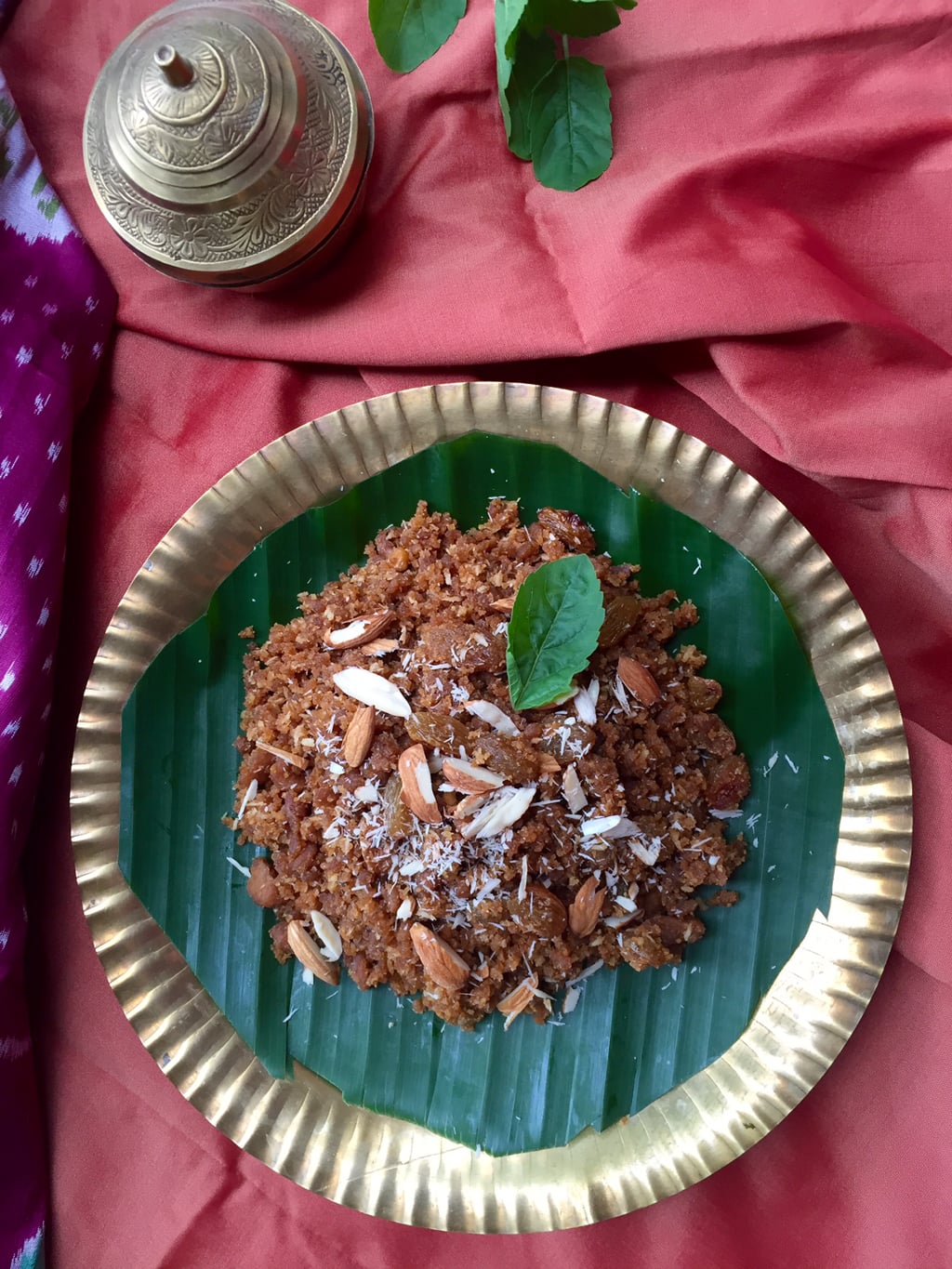 Traditional Tamil Diwali Recipe | Okkarai | Chana Dal and Jaggery based traditional sweet dish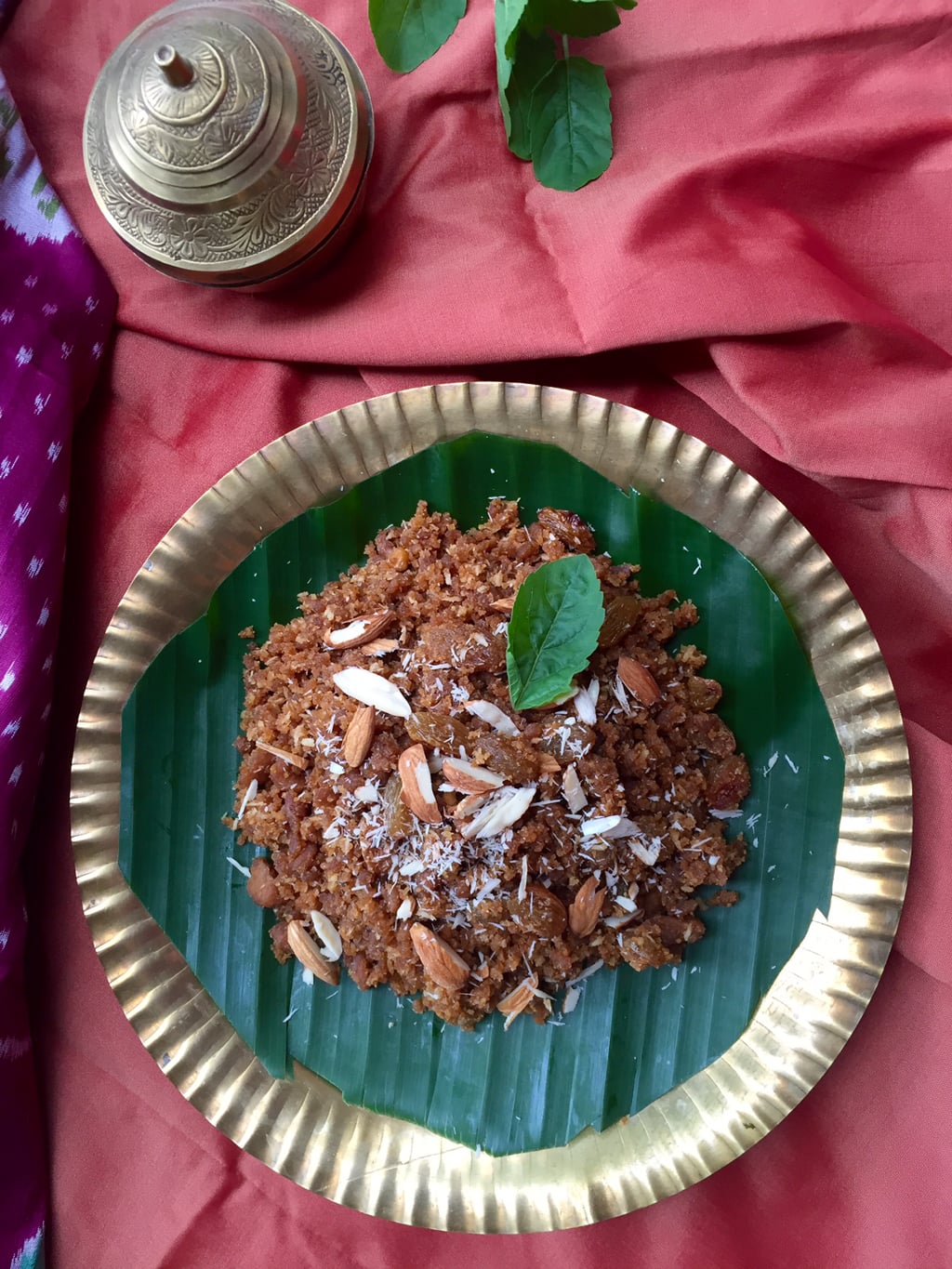 Okkarai or Ukkarai is a traditional Tambrahm recipe. This jaggery-based, low-fat sweet made from chana dal / Bengal Gram dal, does not require much ghee, made using jaggery is a perfect healthy recipe to include in your Diwali preparations.
This recipe for Okkarai has been given to me by my maternal grandmother, who has been making this for every Diwali as far as I can remember.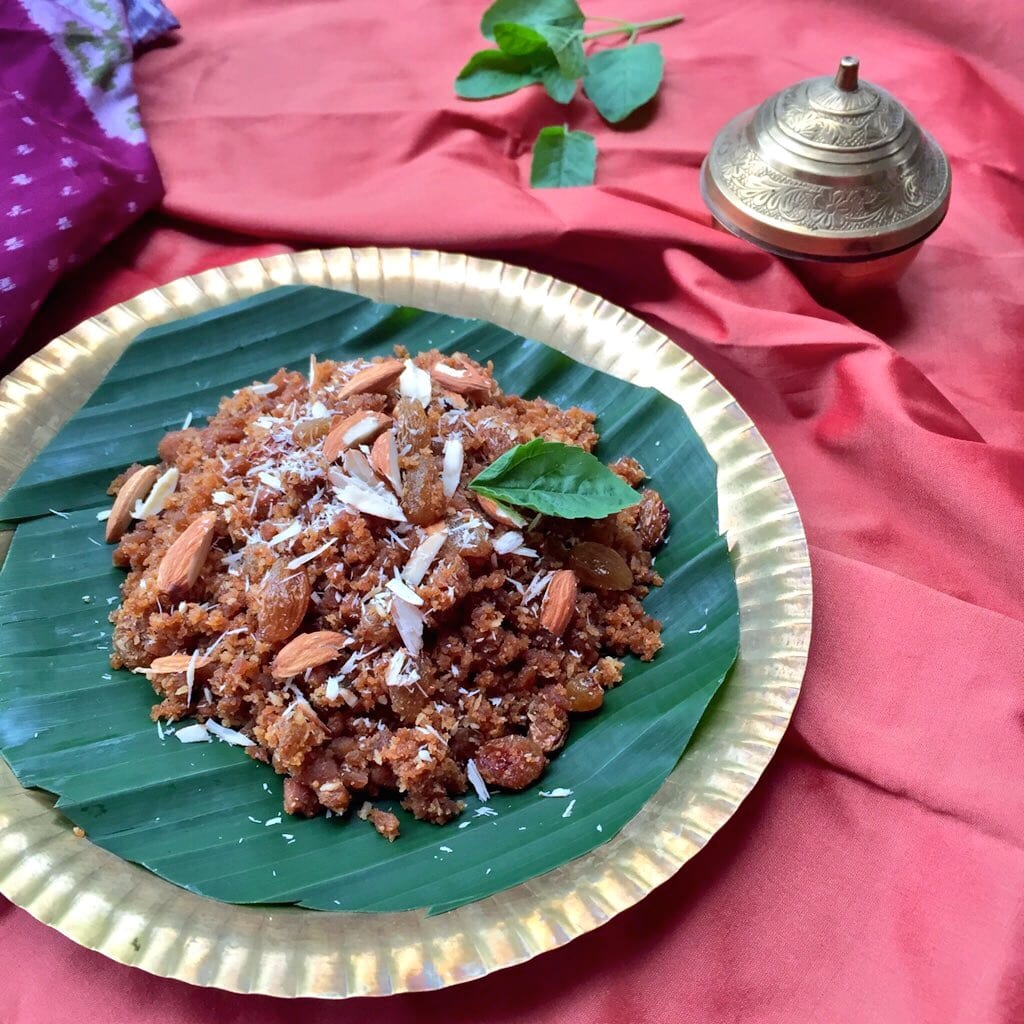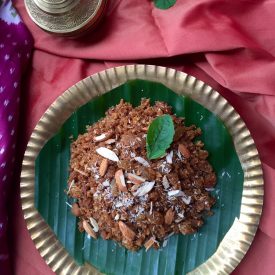 Recipe for Diwali Okkarai
Recipe for Okkarai - a traditional Diwali recipe from my family that uses chana dal and jaggery
Ingredients
1

cup

chana dal

1

cup

jaggery

5 - 6

cardamoms

1/2

cup

coconut

freshly grated or desiccated

1

tbsp

gingelly oil coconut oil ghee

/ /

1

tbsp

ghee cashews

for frying

10 - 12

cashews

, halved

2 - 3

tbsps

raisins
Instructions
Chana Dal: Dry roast the chana dal till golden brown and aromatic. This will take 7-8 minutes on medium heat. Soak this roasted dal in lots of water for 3 hours or so.

Coconut:Dry roast the coconut flakes till golden and aromatic. This will take around 5 minutes on low flame. Keep aside.

Cardamom:Remove the skin, grind the seeds along with a tsp of coarsely granulated sugar in mortar-pestle till you get a fairly fine powder. Keep aside.

Cashews and raisins:Heat 1-2 tbsp ghee and fry them till cashews are golden. Keep aside.

Preparing the Chana Dal:Grind the soaked chana dal to a fine paste, adding as little water as possible.Make loose dumplings of the ground dal and place in a deep, big vessel that fits in the cooker, steam for 20-25 minutes.Open the cooker after a few minutes and let these steamed dumplings cool. Now, you can either grate these cooled dumplings or crumble them with your fingers. The former gives a more uniform look to the sweet.

In a large wok, heat 1 tbsp of gingelly oil (Nalla yennai) or ghee and fry the crumbled / grated dal mix on a low flame for 5-7 minutes. Keep aside.

Place 1/2 cup water in a heavy bottom pan. Add 1 cup of crushed jaggery to this and let it melt on a high flame, with constant stirring. Once melted, lower flame and keep stirring.In 7-8 minutes the mixture will get a deep colour and start thickening.Keep a small plate handy, and pour a drop or so of this onto it, every 2-3 minutes. Try rolling this drop between your thumb and index finger. If it turns into a ball and makes a sound when you drop it on the plate, your jaggery-caramel is ready for the okkarai.

As soon as your caramel reaches this stage, turn off the flame.

Remove the wok from the stove and start adding the ready dal crumble in batches, giving it a good mix to coat evenly. Once the crumble is all evenly mixed with the jaggery caramel- it will be soft, sweet and not sticky, but like perfectly cooked basmati rice - fluffy, dry and separate.

To this, add the roasted coconut, cardamom powder and fried cashews and raisins and mix gently.
Notes
Note:
VEGAN OPTION: Substitute ghee with gingelly oil (nallennai) or coconut oil.
This is naturally GLUTEN FREE.
Your Okkarai is ready for Diwali. If you like a richer taste, you can use more ghee to fry the cashews, but 1 tbsp is more than enough.
It is a labourious recipe, but with just two main ingredients - to get such a flavoursome and healthy festival sweet, it is totally worth it.
I am so glad I made it this year and it is going to part of my Diwali cooking every year, now on.
Hope you find this recipe useful to recreate your family tradition :).