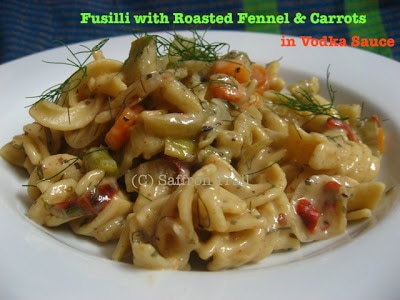 Yesterday morning, with my son at playgroup, I went off to my favourite supermarket to stock up on vegetables and fruits for the week. This place has the freshest produce I have seen in Hyderabad, including most exotic vegetables. When I spotted fresh bulbs of fennel with vibrant and lush green tops, I had to bring one home. At that point I had no clue what I would do with the fennel, but it was too pretty not to take back home.
I had some vague idea of roasting it with garlic and olive oil, but then i'd have to think of another dish to go with it. That's when it struck me to saute this with carrots and toss it with pasta in a light faux cream sauce.
My spaghetti loving husband pronounced this pasta dish totally out of the world, despite the fact that I'd used fusilli for this dish. The vodka is totally optional, but I just felt happy using it in a Friday night pasta dinner inspired by the pasta sauce Rachel Ray popularised by the name of "You won't be single for long Vodka Cream Pasta".
When you taste the fennel raw it has very strong taste of fennel seeds – but sauteeing mellows down the flavour to a great extent. I trimmed off the greens from the thick stems and stored it overnight in the fridge to make a thuvaiyal this morning. This lovely green chutney made in the tambram style, by grinding roasted red chillies, udad daland coconut along with wilted fennel greens tasted so fresh and different in flavour. With rice and a roasted papad, it made a super lunch for me. My resolve of not to waste any edible food totally paid off and discovered this new twist on a thuvaiyal.
You could make a classic white sauce for this pasta, but my faux cream sauce has all the positives of a white sauce minus the calories, so do give it a go!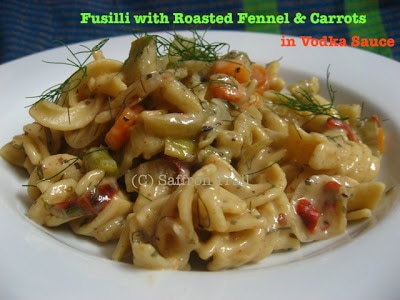 Recipe for Fusilli with roasted fennel and carrots
Serves 2 generously
Fusilli with roasted fennel and carrots in vodka sauce
Pasta with roasted fennel and carrots in a vodka sauce
Ingredients
4 handfuls

fusilli pasta

1

fennel

bulb

2

carrots

medium

1

tbsp

olive oil

4

cloves

garlic

, minced

1/2

tsp

chilli

flakes

salt

1

tsp

basil

dried

1

tsp

oregano

dried

1

sprig

fennel

greens for garnish
For Sauce
1

cup

milk

pinch

nutmeg

grated

3

cloves

garlic

,finely grated

1/2

tsp

black pepper

powder

1/2

tsp

salt

1

tbsp

whole wheat flour all purpose flour

or

1 - 2

cheese

slices
Instructions
Place a large pot of water to boil. Once this starts boiling put the pasta to cook.

To prepare the fennel - cut off the top part with the greens. Take the bulb (lower part) and separate the stalks and slice. Wash these well in a large bowl of water to dislodge all the soil and grit. Drain and keep aside.

Peel the carrots. Slice off the tops and tails. Cut into not-very-thin rounds. Keep aside.

In a large pan, heat the oil and saute garlic for a few seconds, followed by chilli flakes.

Now, add the prepared fennel and carrots. Saute on a medium-high flame till the oil coats them thoroughly and let this brown a bit on a low flame for around 5-7 minutes. Sprinkle salt.

Add 1/2 cup water. Cover and cook till the fennel slices are soft. Since fennel is quite fibrous it will not turn as soft as carrots, there will be a bite to it even when cooked.

Whisk all the ingredients for the sauce with a fork in a bowl and pour it over the cooked vegetables. Let this simmer till thick (3-4 minutes). Add 30 ml vodka to this and then add the drained, boiled pasta.

Add dried herbs, adjust salt, pepper - 1-2 slices of cheese and simmer for 2 minutes, until flavours come together and cheese has melted into the sauce.

Serve hot.