Grilled Paneer Salad with Edible Flowers
I love cooking for friends. They bring out the best dishes from my kitchen. Ajit Nandini are always generous with their praise for my salads, often telling me to either open a salad bar or start taking salad making classes. While I've done neither, I love to up my game when I'm making salads for them. You see the effect of positive reinforcement right there 🙂
Last weekend, they were planning to get an Asian starter and main course for dinner, so I promised to make an Asian inspired salad. I had made up my mind to use the edible flowers from my garden. Edible flowers are quite the current culinary rage with chefs using them as garnishes in salads, drinks to making whole dishes using them. I wanted to use the beans flowers, rocket flowers, basil flowers along with the baby leaves of Malabar spinach, cinnamon basil (tastes similar to Thai basil), regular spinach and baby bok choy leaves.
I collected the flowers in a little bowl, soaked them in cold water to refresh them and dried them on a tea towel. The baby leaves were washed delicately in cold water and dried on towels. The bigger lettuce, rocket leaves were washed, chopped into bite sized pieces and dried on towels. So yes, salads mean more work than other dishes. Leaves need to be carefully washed and dried, which is half the battle won. You could say that a salad spinner could simply this process so much. I whole heartedly agree, but somehow I haven't got myself one yet. I guess this is why salads are so overpriced in fine dining restaurants – the work that goes into the leaves.
And yes, I used paneer in this salad. Purists can turn up their noses saying "HUH Paneer in an Asian salad"! But hey, it's better to use paneer instead of not-so-good tofu and marinated in Asian flavours, it could beat the pants off any tofu.
Grilled paneer salad with edible flowers
Serves 4-5
Grilled paneer salad with edible flowers
This is one of my prettiest salads ever - Grilled paneer on a bed of salad greens and other vegetables, garnished with edible flowers from my kitchen garden
Ingredients
Salad ingredients
1

green bell pepper

large , very thinly sliced

1 small 3

onion shallots

or , finely sliced

2

carrots

small , peeled and thinly shaved

2

plums

, thinly sliced

200

grams

paneer

, sliced thickly into long pieces 8
Edible flowers (optional)
Coriander

flowers

beans

flowers

rocket

flower

basil

flowers
Marinade for paneer
1

tsp

ginger

finely grated

3

tbsps

soy sauce

3

tbsps

rice wine vinegar

1

tbsp

sesame seeds

1

tbsp

honey

1/2

tsp

black pepper

freshly ground

pinch

chilli chilli sauce

flakes or as per taste

pinch

salt

(if needed, as soy sauce has lots of )

2 - 3

lemongrass

leaves , crushed

2

tbsps

vegetable oil

2

tbsps

olive oil

3

tbsps

soy sauce

3

tbsps

rice wine vinegar

2

tbsps

honey

chilli

flakes

1/2

tsp

ginger

grated

1

clove

garlic

finely grated ,

2

tbsps

coriander

finely chopped

black pepper

freshly ground
Instructions
Prepared the salad greens as explained above- baby leaves left whole bigger leaves chopped into bite size.

Soak the edible flowers in cold water, drain and dry on towels. I also used rocket pods.

Toss all the paneer marination ingredients in a large bowl and gently toss the paneer slices in this. Keep covered for 15-30 mins.

Add all the ingredients for salad marination to a jam jar and shake well until you get an evenly mixed dressing.

Grilling the paneer - Heat a stove top grill pan / grill / tava. Once the pan is very hot, brush some oil and place the marinated paneer slices (after removing the lemon grass stalks from marinade) in a single layer, press gently with a spatula and do not disturb for 1 minute or so, until the grill marks appear. Turn and grill other side similarly. Remove from the grill pan and keep aside.

To assemble salad: Place the prepared salad greens in a large bowl. Scatter the bell pepper, carrots, plums over the leaves. Pour 3/4th of the dressing and toss gently. Arrange this on a platter. Place the grilled paneer and top with edible flowers. Pour any remaining dressing marinade over the top.
Notes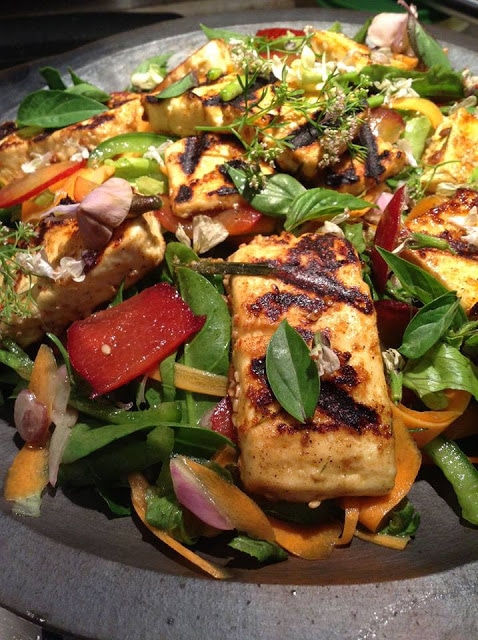 The paneer was the star of the dish, marinated in those Asian flavours and the stunning grill marks. The others lent an excellent supporting role and the dressing brought the whole dish together. A small note of appreciation for the cute flowers who added a lot of prettiness to the dish. We LOVED this dish and wished there was more 🙂
(c) Nandita Iyer 2006-2016