The rays of the morning sun find their way through the gaps in the curtains as if to say, "Wake up"
I instinctively reach for my phone. Don't judge me
Date reads 1st March
"OMFG!"
Yeah, in such shocking situations, I do swear (under my breath)
Don't judge me 😛
Two months down in 2015 already? How, where, when??
The fitness promises I made to myself and the threats I made to my fast increasing fat percentage have stayed forgotten in the last two months
I want to recommit to those promises before it is too late in the year and I feel like time has (once again) slipped through my hands
Due to changes in my family circumstances, the husband working in a different city, my driver bidding us adieu and more parenting responsibilities, I lay slacking.
"I have all the valid reasons," I have been telling myself.
But it's time to break through the shackles of stupid excuses. Because that's what all the above valid reasons are, excuses, to not go after your goals with a vengeance.
That's why this #getFitMarch goal for myself. And that's why I'm going to sharing my struggles and my progress over here, Twitter and Instagram
My goals are very simple. (ahem)
– Minimum 30 minutes of focussed physical activity a day – running/ Jillian Michaels / dance workout etc.
– 2 Litres of water a day
– Stick to my 5:2 diet which worked beautifully for me and then I started taking it too lightly
– Eat sensibly, refined foods off the list except once a week
I'm not going to obsess over weight and body measurements and whatever that's the buzzword these days.
Just two indicators-
– Body fat %
– Waist
getFitMarch is just to get back on track, and not just a do-it-for-a-month-and-forget-about-it program. Research says that anything you do consistently for a reasonable length of time becomes second nature. And that's my aim here. I want March to be the kickstarter for healthy habits for the rest of the year
If you'd like to join me on this journey, tag me on Insta / Twitter (@saffrontrail) and use the hashtag #getFitMarch. After all, we could all do with some push, support and motivation
And hey, don't judge me for checking my phone first thing in the morning 😛
DIARY
Did 4 km walk-run in the morning. This was after ages, so yes, was panting like a dog who has been made to run for its bone. And hey, I also broke a sweat after ages, that felt good
On another day, I would have felt that this 4km run justified a solid vada-sambar breakfast from the local Darshini. Thanks to the #getFitMarch resolve, it was a green smoothie.
A good smoothie recipe has some protein, some veggies, healthy fats and herbs for flavour. You can omit the honey, but I personally believe in the healthy properties of some pure forest honey. The yogurt provides protein, spinach and mint give the chlorophyll, flaxseeds provide omega-3-the healthy fats and ginger gives it a punch. Cucumber gives it a body and makes it more filling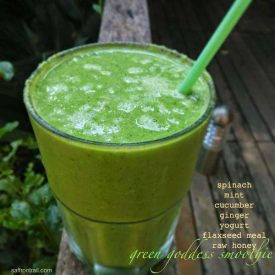 Green Goddess Smoothie
Green Goddess Smoothie, a step closer to your fitness goals.
Ingredients
2

cups

spinach

fresh leaves

1

cup

yogurt

1

tbsp

honey

good

1/2

inch

ginger

, grated

1

cucumber

medium , peeled, sliced

1

tbsp

flaxseed

meal

4

ice

cubes
Instructions
Wash spinach leaves in 2-3 changes of water. Shake off excess water and place on a towel while you get the other ingredients ready

In a blender / mixer, whiz everything together.

Sip or slurp
Notes
Go around all day adjusting the green goddess halo over your head 😉
(c) Nandita Iyer 2006-2015