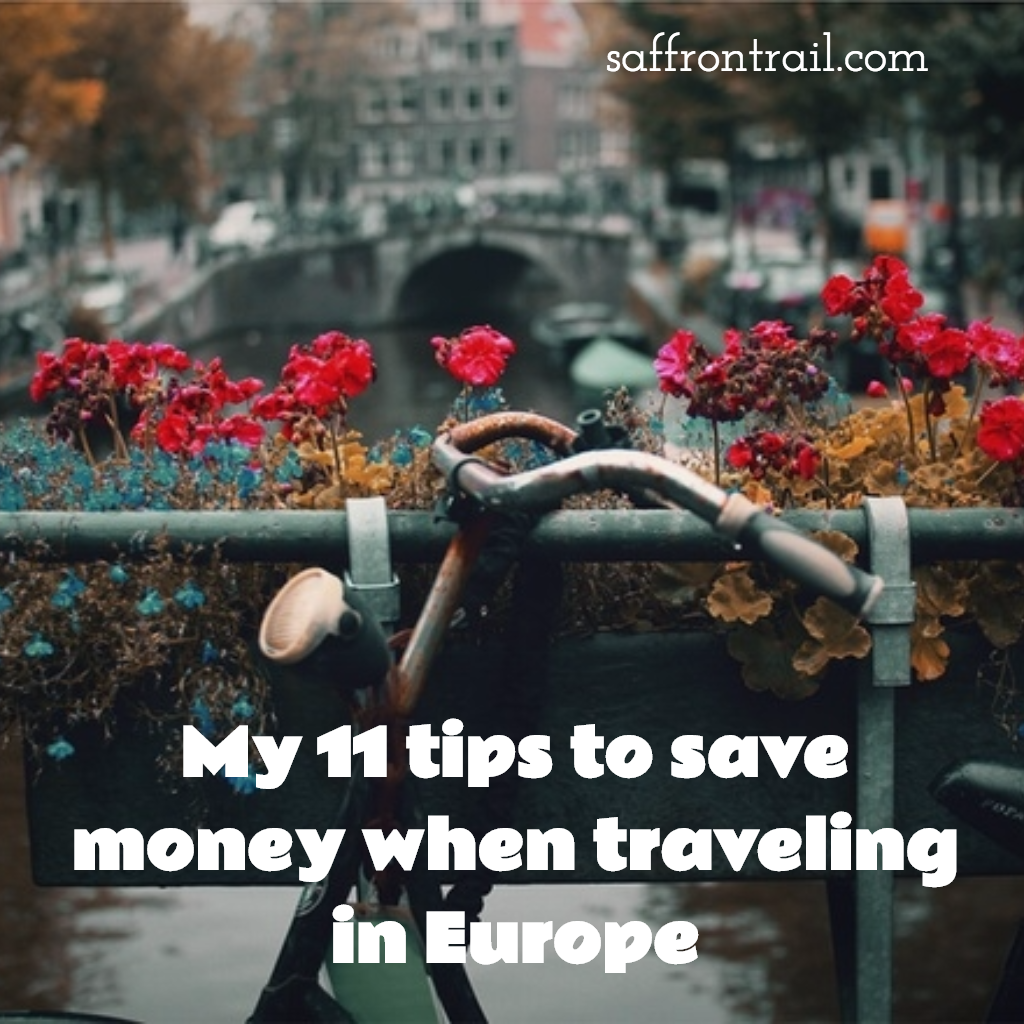 After all our money got stolen on day 5 of our 15 day trip to Europe, we had to turn smart and do Europe on a shoestring. Here are some of the best tips to save money traveling in Europe, all from personal experience. Don't miss it!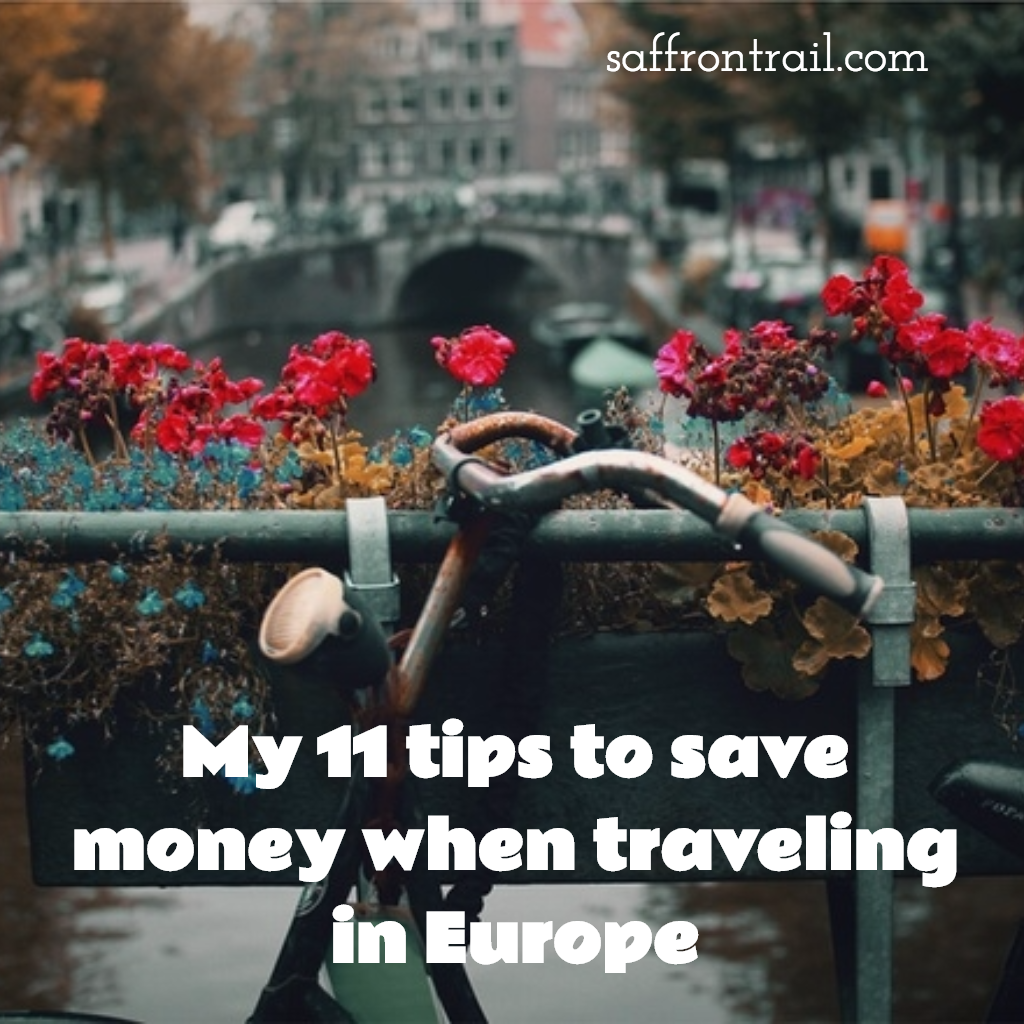 At the outset, let me tell you, Europe and shoestring do not make good bedfellows. More so, if you are someone who is going to spend Indian Rupees as Euros. We had no intention of doing Europe on a shoestring. But circumstances forced us into it and we did really well on a budget, so we could go to all the places we intended to go.
Keeping a strict budget and counting your cents can be stressful on a holiday. The tips I share with you from personal experience are not too tough to follow. Even if you are not looking at traveling around Europe on a shoestring, these tips will help you save quite some money with which you can shop more, eat in more luxurious places or travel more, whatever catches your fancy.
Save on train tickets
Book tickets well in advance. Ticket bookings for Thalys trains that run between many European cities open 90 days in advance. A Thalys return ticket from Brussels to Amsterdam can be as low as €22, while fixed intercity train which takes double the time costs €44 per one way journey. Do the math. The second class on Thalys is very comfortable, except when you get the centre seats facing each other, which we got. First class has free food, booze and wifi, for an extra cost. This is also much cheaper when booked in advance.
Save on water
A tiny bottle of water (150ml) costs more than the beer!
When I told my close friends about my Europe trip, the first thing they told me was – don't blow up all your money on water 😀 If I have to sound Marie Antoinette-esque, why drink water when you can drink beer (or wine)! This is true. Water in most of these places is more expensive than booze. Bottled water in Paris, Brussels, Amsterdam is a killer, especially when you order it in restaurants. It is still ok to buy it from supermarkets. It is always a good idea to carry a refillable 1 litre bottle which you can fill from a tap in your apartment or hotel. All tap water is perfectly drinkable in these countries, but do confirm with your hotel / host. Even in cafes, you can ask for "tap" – which means you don't want the expensive bottled water.
Use public transport smartly
A single ticket in Paris was €1.80, €2.15 in Brussels and €2.90 in Amsterdam. The same tickets apply for any public transport, with a few changes in rules. In Paris, it is valid from when you enter one station until you exit out of the station at your final destination. In Brussels and Amsterdam, it is valid for one hour. So if your return trip is after one hour, you will have to buy a fresh ticket. If you plan to make 4-6 trips on public transport in a day, that itself will cost you around €10-18 per person.
In Paris, I recommend the Navigo Découverte pass for a week valid on bus, Metro and RER. This pass costs 21.25€ plus a 5€ fee for the card. Make sure you carry a photo for this pass. For kids, you can get a 10 ticket carnet for €7 which is a steal, because single tickets for kids cost the same as for adults. The pass is valid from Monday to Sunday, which worked perfectly for us because we landed Wednesday night and left Monday morning. If you are going to come in over the weekend and stay over the next week, you might have to consider some other options. More details can be found on Parisbytrain website.
For Brussels, since we were bang in the city centre, we just bought single tickets for the one long trip to Atomium and Mini Europe. We walked everywhere else.
For Amsterdam, depending on your number of days, you can get a day pass for a 1-4 days, which is totally VFM – can be used on Metro, Tram and Buses. We did not use the metro at all, only trams and buses. For kids, you can only get a single day pass for €2.50 euro which is extremely useful, given that a single journey ticket costs €2.90 and we did at least 6-8 journeys per day. These kid tickets are only available at GVB counters or in a tram, so if you board a bus first thing in the morning, you will have to end up buying the €2.90 single ticket which is hardly VFM.
Passes depend on the length of your stay, where you are located, how many trips you plan to take roughly. Highly recommend that you do this research and figure out your public transportation.
Buy food from local markets
A bag full of freshest and most delicious produce for just 5€ in the heart of Paris! If someone told me this before my trip, I'd think that they were kidding me. But this is what we got at the Barbès market, a predominantly North African / Arab dominated market with really rock bottom prices for veggies, fruits, olives and dried fruit. Now, not all local markets are cheap. Some are exclusively organic and quite hipster, like the food market at St.Germain in Paris, so read up a bit. The Eurocheapo website has some excellent tips on where to shop local.
Also read: How to keep your money safe while traveling in Europe
Buying food from supermarkets
These were our real saviours – Franprix in Paris, Delhaize in Brussels and Albert Heijn in Amsterdam. The last one I fell so much in love with that I wanted to kidnap this supermarket chain and bring it to India. In Brussels, you can just buy a pack of beers and sit at any square, park or street side and swig your beer with a side of people watching. In Paris and Amsterdam, public drinking is not allowed, so stay informed. We also bought a few salads and fruit from M&S in Paris, which turned out so fresh and delicious.
Aside of boxed salads, buy chopped veggie mix, noodles, pasta and tomato sauce, with which you can make quite a few dinners, especially if you are in a well stocked Airbnb. A few snacks to stock up for kids, especially when you are out on the road all day are helpful. Highly recommend are Chocomel and the local cheese spread, bread, stroopwafels in Amsterdam, 6-packs of beer in Belgium and fresh fruit and salads in Paris.
Eating out wisely
Most menus list two rates, one for eating in and one for take away. In the latter, you are not paying for their service or heating, and it costs a bit lower that eating in. This system was quite prevalent in Brussels. There are always tables and chairs on the sidewalk where
you can takeaway your food and eat outside, weather permitting. In most cities in Europe, you can always buy some bread, cheese and wine, take it to the nearest park and make a picnic out of it.
Lunch out, dinner in
Almost everywhere, lunch is cost lesser than dinner. Research and find out good Prix fixe menus, so you enjoy good local food without breaking the bank. So make sure you have a good lunch out and stick to sandwiches or boxed salads from supermarkets for your dinner. This can save you quite a lot of money. Sometimes, a large pizza for a group of 2-3 people can make a filling dinner, at €13-14 is quite a good deal.
Buying food for kids
Buy snacks like biscuits or cereal bars, packaged juices, nuts and carry a few things in your bag on days you will be out for more than 3-4 hours. My son walked over 150km in 15 days and it can be tiring for them. It is important to keep their energy up with some ready to eat snacks.
Walking around
Walk a lot – like we did in Brussels, because every single bus ride avoided would cut our cost by €6.45, plus you always discover places better by walking. Make sure you invest in some good walking shoes for your trip though. I swear by my Skechers Go Walk – they were the ultimate comfort throughout my trip and we walked almost 10-15 km each day.
Buying souvenirs
Museum shops are the worst places to shop for souvenirs if you are on a budget. Supermarket for local cheeses, stroopwafels, flower market such as Bloemenmarkt for tulip bulbs, magnets, tees, send a postcard from the local post office to a friend in another country, or even to yourself 🙂 Other pretty souvenirs like the ones at the Atomium, which cost an arm and a leg, I was just happy to click photos and send friends postcards on Twitter.
Phone and Internet Access
Buy a local sim card with a minimum package for calling in case of emergencies and any unavoidable data usage. In Paris, Brussels and Amsterdam, most museums and tourist spots provide free wifi. Most Airbnbs also provided access to unlimited wifi. Whatsapp can be used to make calls to family and friends when you have wifi access. A lot of pubs / restaurants also provide wifi access. You can completely avoid the monstrous roaming cell phone bills by keeping your phone on airplane mode all the time and using wifi wherever available.
I hope you liked all my tips on how to save money when traveling in Europe, shoestring or not. Do add any useful tips I may have missed in the comments below.
Also read:
How to keep your money and passports safe while travelling in Europe
A 7 day itinerary for Singapore with kids