While I was pottering around in the kitchen this evening, waiting for the oven timer to buzz, a sudden clap of thunder, followed by many more, interrupted the regular evening sounds. As a predictable epilogue to the thunder, the rains lashed against the windows, drenching the laundry mercilessly. The narrow parapet was no protection against this kind of crazy rain. I ran out to rescue the laundry, hit by a shower of huge cold raindrops and popped back in to the warmth of the kitchen, where the comforting aromas of spices enveloped me
It's amazing how warm fragrances and flavours instill a sense of comfort on a cold day or at the end of a tiring day. This easy pumpkin and chocolate tea cake is one such way to infuse some warmth into a cold day. You can even cut down a step and omit the chocolate and allow the whole cake be a lovely golden colour, but the slight marbling adds to the appeal of this simple homemade cake. Use good quality fresh spices / spice powders for best results. Walnuts add to the flavour of their cake, and also provide an enjoyable crunch.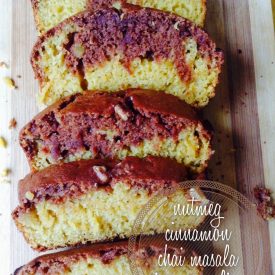 Easy cake recipe - Quick Pumpkin and Spice Tea Cake
An Easy Pumpkin and Spice Tea Cake with a cocoa layer, perfect with your cup of tea or coffee
Ingredients
1.5

cups

all purpose flour

(maida)

1

tsp

baking powder

1/2

tsp

baking soda

1/2

tsp

salt

1/2

tsp

nutmeg

grated (use the finest grater you have)

1

tsp

cinnamon

powder (I use Keya brand)

1

tsp

masala

chai (I used ASA brand asaspice.com)

3

tbsps

butter

soft

3/4

cup

castor sugar

1/2

cup

butter milk

(add 1 tsp vinegar to 1/2 cup cold -let it stand for 2 mins)

3/4

packed

pumpkin

puree (instructions at the end) cup

2

tbsps

cocoa chocolate

powder or drinking or Nesquick

3 - 4

tbsps

milk

Handful

walnuts

chopped
Instructions
Preheat oven at 180xb0C. Grease and flour a loaf tin.

In a large bowl, whisk together flour, baking powder, baking soda, salt, cinnamon, chai masala. Using a fine grater, grate roughly 1/2 tsp of nutmeg into this. You can use readymade nutmeg powder, but freshly grated nutmeg will provide a far more intense aroma

Cream together the butter and sugar. Whisk in butter milk. If buttermilk is cold, the butter will solidify somewhat, but this is okay

In a blender/mixer, blend together the pumpkin puree, creamed sugar, and buttermilk mix

Add this to the dry ingredients. Bring together gently with a spatula. Don't overmix

Pour 2/3rd of this mix into the prepared loaf tin

To the remaining batter, add the cocoa or Nesquick, thin it with 3 tbsp of milk until it is of cake batter consistency

Add this over the top of the pumpkin batter layer. With a toothpick or chopstick inserted right into the cake batter, swirl the batter, poking it into the bottom layer in multiple places. This is what gives the marbling effect

Sprinkle walnuts and gently press them down

Place in the middle rack of a preheated oven to bake for 35-40 minutes, until a tester comes out clean

After 2-3 minutes, carefully loosen the edges and invert over a wire rack, where you can let it cool for 30 minutes or so, before slicing

Serve warm with coffee or tea.
Notes
How to make pumpkin puree at home
Take 500 grams pumpkin, with the seeds scraped out. Peel and dice. In a small pressure cooker, place the diced pumpkin, add 1/2 cup water. After one whistle, keep on sim for 10 minute. Once cooker is cool enough to open, remove the pieces and mash with a wooden spoon or a potato masher. If you don't have / use a pressure cooker, boil on stove top with 1/2 cup water on a low heat, keeping it covered, until it yields to a mush when pressed with the back of a spoon
You can make this in advance and keep it in an airtight container in the refrigerator
Note:
you can use 1.5 cups self raising flour instead of flour+baking powder+ baking soda +salt in the recipe
I'm sure the pumpkin puree can be easily replaced by a carrot or beetroot puree for a similar, beautiful coloured tea cake. Vegans can use soy milk instead of regular milk
(c) Nandita Iyer 2006-2015