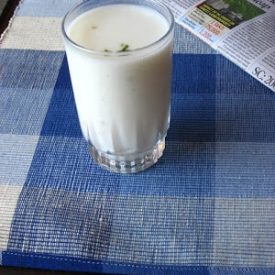 Masala Mor - Indian Spiced buttermilk
My morning glass of chaas Masala Mor or spiced buttermilk is one of my favourite anytime beverages. Had chilled in the summers or at room temperature during all other months, I can never refuse a glass of this! In most parts of India, every family used to have a tradition of 'setting' dahi / thayir
1

cup

yogurt

3

cups

water

1/2

inch

ginger

piece of root, peeled

1

green chilli

bunch

coriander leaves

fresh

1/4

tsp

rock salt

1/4

tsp

mustard seeds

sprig

curry leaves

pinch

asafoetida
In a large bowl, whisk together one cup thick yogurt (preferably homemade or Greek yogurt) with water.

Keep aside.

In a mortar, mash together a small bit of fresh ginger root, one small green chilli and some fresh coriander leaves with some sea salt or rock salt.

Add this coarse paste to the buttermilk.

In a small saucepan, heat 1 tsp oil, and add mustard seeds, a few curry leaves and a pinch of asafoetida.

Stir till the seeds splutter and transfer it into the buttermilk bowl.

Mix everything well.

Check for salt. Serve chilled.