Paruppu Usili is a traditional Tamil Brahmin dish where soaked, ground and fried lentils are added to a seasonal vegetable such as any beans variety, carrots or ivy gourd. It is often paired with our version of Kadhi called Moar Kozhambu
On my recent trip to Delhi, the Delhi obsession with garam garam parathas was very evident. The road trip from Pathankot to Dharamsala started with a round of alu and paneer parathas ordered for our entire group, served with Pachranga Pickle and Dahi. The aroma of a paratha being cooked on a hot tava or in the tandoor is something that totally stimulates the hunger and gets the mouth watering. I was thinking of what possible fusion I can do with parathas especially with a Tamil lentil dish and I was instantly reminded of my all time favourite Usili. Dal parathas are quite popular in North Indian homes where left over lentils of any kind are mixed with some wheat flour and parathas made from the resultant dough. In this case, I have stuffed the Usili mix into parathas and the result was delicious
Recipe for Paruppusili Stuffed Dal Parathas
Makes 8 parathas
Recipe for Paruppusili stuffed Dal Parathas
Paruppu Usili is a traditional Tamil Brahmin dish where soaked, ground and fried lentils are added to a seasonal vegetable such as any beans variety, carrots or ivy gourd. It is often paired with our version of Kadhi called Moar Kozhambu The recipe in this blog post is the fifth in series for the Ta
Ingredients
For Parathas
2

cups

wheat flour

3/4

tsp

salt

water

to bind dough
For Stuffing - Usili
1/2

cup

Toor Dal

Tata I - Shakti

2

tbsps

Chana Dal

Tata I - Shakti

3

chillies

dried red

2

green chillies

1/4

tsp

asafoetida

powder

1

tsp

salt

1

onion

medium , finely chopped

1

tsp

garam masala

powder

1

tsp

chilli

powder

2

tsps

cumin coriander

- powder

3 - 4

tbsps

coriander leaves

finely chopped fresh
Instructions
Wash and soak the Tata I-Shakti Chana and Toor dal in lots of water along with the red chillies, for 3-4 hours.

Directions.

Drain in a sieve and grind to a coarse paste with the green chillies, salt, asafoetida. Do not add any extra water.

In a utensil that fits in your pressure cooker, place chunks of this coarse lentil paste next to each other.

Place 1 cup water inside pressure cooker and the utensil with the lentil paste. Cover with cooker lid, remove the weight and allow to steam on medium flame for 10-12 minutes.

After 10 minutes, open the cooker lid, remove the steamed lentil chunks on a platter and allow to cool for a bit. Using finger tips crumble this until it is uniformly crumbled to a coarse powder.

Add the finely chopped onion, coriander and spice powders to this, mix and keep aside.

Prepare dough for parathas by mixing required water with the flour along with salt, and knead to get soft pliable dough. Towards the end knead with 2 tsp oil and cover and keep aside for 20 minutes.

Divide dough into 8 balls.Using some flour, roll out each portion into a 3" circle, place generous filling in the center.

Bring edges together, pinch to seal. Flatten it gently with floured fingers.

Using a rolling pin and board, roll out into even thickness parathas around 6" diameter.

Heat a tava. Place the rolled paratha and allow to cook on medium flame for 1 minute or so until the bottom side is cooked and golden spots appear.

Turn over, apply oil or ghee to this side, while the other side is cooking.

Turn over once again and apply oil or ghee to second side and cook this side for few seconds again.

Remove and serve hot with chutneys of choice.
Notes
Health Quotient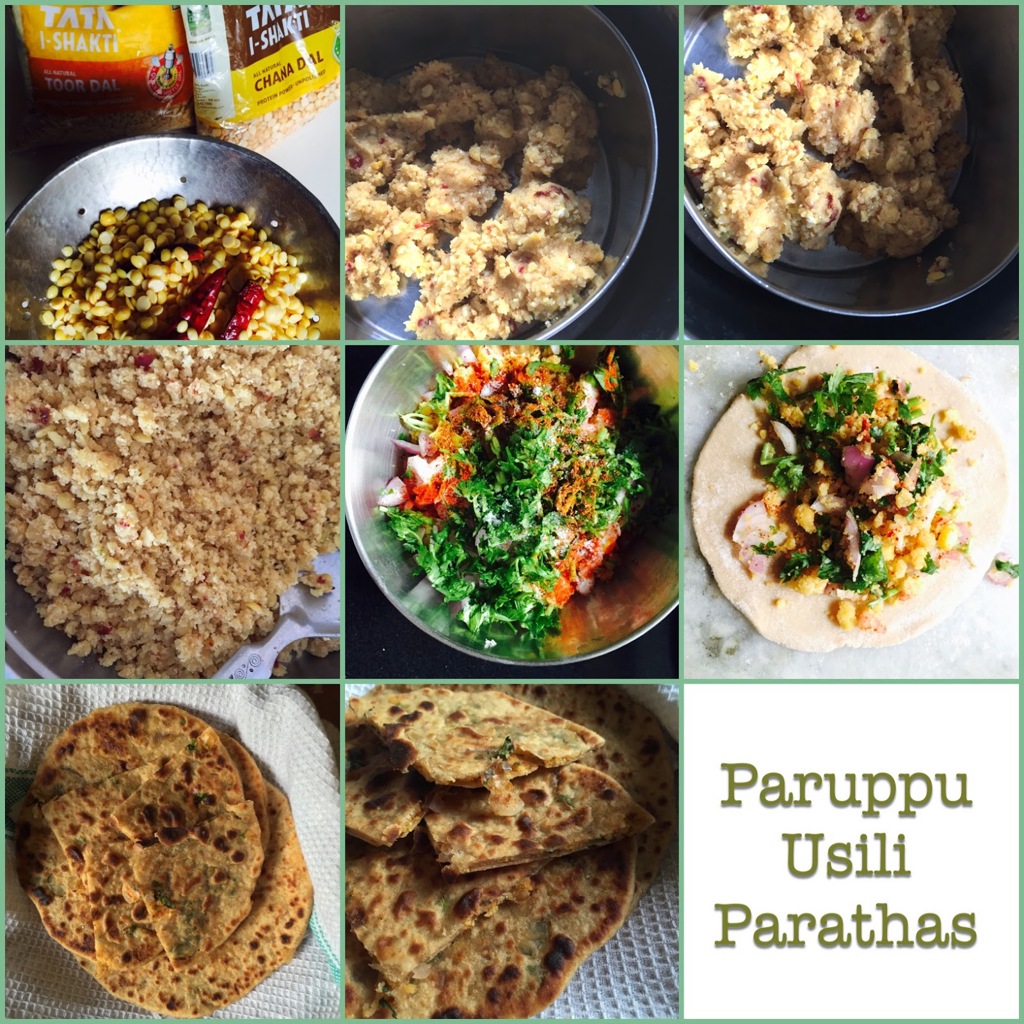 Using Tata I-Shakti unpolished dals as the filling adds to the protein and fiber content to the parathas over using potatoes. It is also lower in fat content as against paneer parathas made using store bought paneer.
You can prepare the crumbled lentil filling in advance and refrigerate. Any leftover filling can be added to any vegetable preparation to add to the protein content of the dish.
Traditionally Usili does not have onions or other spice powders, but it is to bring the traditional North Indian Dilli wale parathas flavour to the dish.
Do check out the other vegetarian/vegan / gluten-free protein-rich Tata I-Shakti lentil recipes in this series:.
Recipe for Misal Masala Dosa.
Recipe for Moong Dal Cheela with crunchy peanut-chilli-sesame topping.
Recipe for Pesarattu with Alu Chokha / Alu Bhate filling.
Recipe for Karnataka Sambar with Masoor Dal.
This recipe is a part of the Tata I-Shakti Dal T20 Tadka Campaign.
You can follow TataIShakti on Facebook to keep track of their updates and recipes.