The best and the most delicious way to use leftover rice: Recipe for Rice Patties
You usually end up with leftover rice most of the times in Indian kitchens, because one can never estimate how much to make in the first place. But that's no problem at all.
A whole book can be written on what to do with it! You can make delicious curd rice the next morning, or phodni bhaath– which means tempered rice in Marathi. Add some veggies and sauces and have fried rice ready. I usually use up leftover rice to make this Indo Chinese Egg Fried Rice!
So what's the recipe here? Well I decided to do something different with the rice, so it doesn't look like rice anymore… And that's how these patties happened.
Print Recipe
What to do with leftover rice? Make these Rice Patties
Yum
If you have leftover rice, do not worry. These delicious rice patties from left over rice will make you deliberately prepare extra rice 😉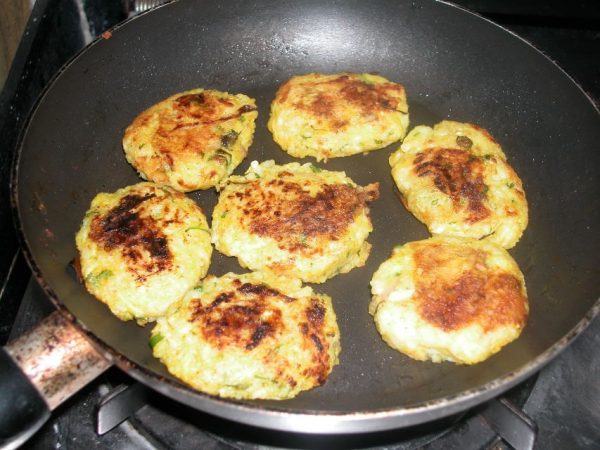 | | |
| --- | --- |
| | |
Mix all the above ingredients in a bowl. The mixture should not be too soft, or else the patties wont retain their shape. To harden it, add some more gramflour.

Shape into ovals / rounds. Grease a non-stick pan with a tspn of oil, and place the patties. Cook till golden brown and crisp on the outside, on both sides.

This should take around 5-7 minutes per side on a slow flame.

Serve with chutney / tomato ketchup.
Note:
*I used papaya because I had it, you can use any such veggie like bottle gourd, or a carrot-just make sure it's not something that will ooze too much liquid.
Tip:
If the rice is too dry the following morning, sprinkle some water, cover and microwave for 2 minutes until it is somewhat softened. Extremely dry rice will not hold together in these patties.